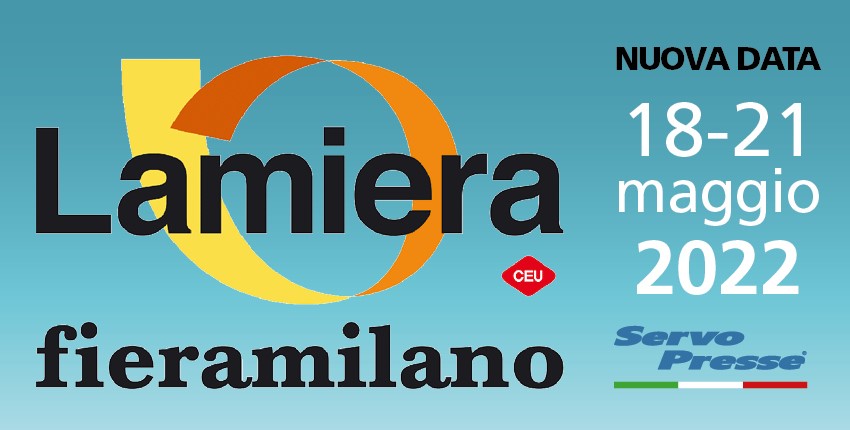 LAMIERA 2022:
new appointment
In safety, we will not miss the important appointment of LAMIERA 2022 and we will be happy to meet you at our stand.
The new dates of the event promoted by UCIMU-SISTEMI PER PRODURRE and organized by CEU-CENTRO ESPOSIZIONI UCIMU are already indicated: from 18 to 21 May 2022.

The organizers of the event, also at the request of the exhibitors, have decided to reschedule the exhibition to allow an event of this magnitude to run smoothly.
Considering the protracted block of trade fair activities and the persistence of mobility restrictions, and not only, indicated by the new Prime Ministerial Decree (of 2 March), the organizers of the event, also at the request of the exhibitors, have decided to reschedule the exhibition in 2022.
"Ours – stated Alfredo Mariotti, general manager of UCIMU-SISTEMI PER PRODURRE – is an exhibition of advanced technologies and heavy machinery. In this context, it is unthinkable to leave the companies that have joined LAMIERA in abeyance, demonstrating, among other things, great courage ".
"We have worked a lot in recent months, listening to the needs of companies and, at the same time, talking with the competent authorities. We have intensified the promotional activity, because the moment required it, and we have postponed all deadlines as much as possible for the benefit of the exhibitors.
But, at this point, the technical times for the correct organization of an event of this magnitude are no longer guaranteed ".
Barbara Colombo, president of UCIMU-SISTEMI PER PRODURRE commented: "The decision to reschedule LAMIERA by fixing it in May 2022 was taken with a great sense of responsibility. It is evident, in fact, that the two months we have ahead will be difficult due to the progress of the epidemic, which in this wave has more worrying characteristics than in the past.
For this reason, with professional seriousness, we decided to postpone it. On the other hand, the manufacturers of the sector – added the president Barbara Colombo – are offered a really interesting alternative such as participation in EMO MILANO 2021, an even more important world stage considering that the world of deformation has not had a fair for almost two years".
EMO MILANO 2021 is scheduled for this year, the traveling world championship dedicated to operators in the manufacturing industry – which returns to Italy after 5 years and after the success of the past edition – which will take place in Fieramilano Rho from 4 to 9 October 2021.
All the details relating to LAMIERA are available at https://www.lamiera.net/it/homepage/