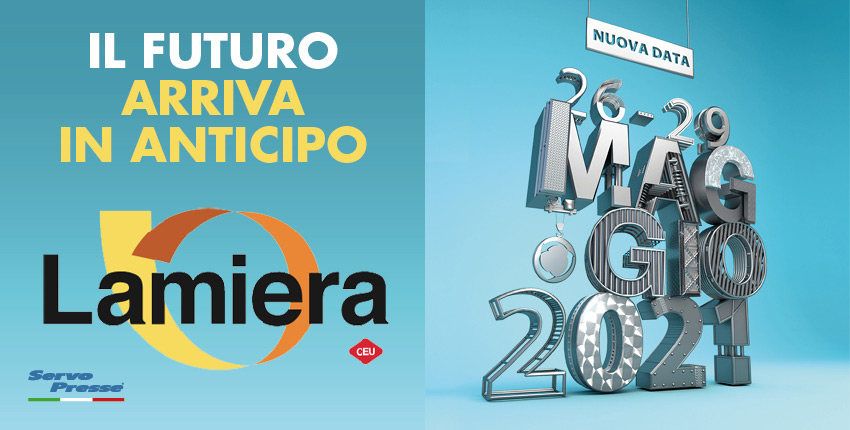 LAMIERA 2021:
appointment in May
If conditions permit, we will not miss the important appointment of LAMIERA 2021 and we will be happy to meet you at our stand.
From 26 to 29 May 2021, fieramilano Rho will host the 21st edition of LAMIERA, the international exhibition dedicated to the industry of sheet metal forming machine tools and innovative technologies related to the sector. It will be the third edition held in Milan.

Promoted by UCIMU-SISTEMI PER PRODURRE, the Italian machine tools, robots and automation systems manufacturers' association, and organised by CEU-CENTRO ESPOSIZIONI UCIMU, LAMIERA aims at repeating the success of the first two Milanese editions, which saw the biennial trade show grow constantly, in terms of technology, exhibition area, exhibiting companies and visitors.
Besides the wide product offering showing the best international ranges with regard to stand-alone machines and complex industrial plants and an extensive overview of automation systems, robotics, technologies linked to the digital world and to energy and production streamlining, LAMIERA will propose numerous initiatives of in-depth analysis and entertainment, in order to make the most of the presence of the operators taking part in the event.
Initially scheduled some months before the usual period. LAMIERA "returns to the origins", taking place in May again, in order to meet the requirements of exhibitors in the best way.
After all, to fully take advantage of the recovery – which, according to the data of Oxford Economics, will materialise already from the beginning of 2021 – the enterprises of the metal forming world have a double opportunity: after LAMIERA in May, EMO MILANO 2021 in October, both of them hosted at fieramilano Rho.